Fan heater or Bar heater? Choose the Right Heater for Your Home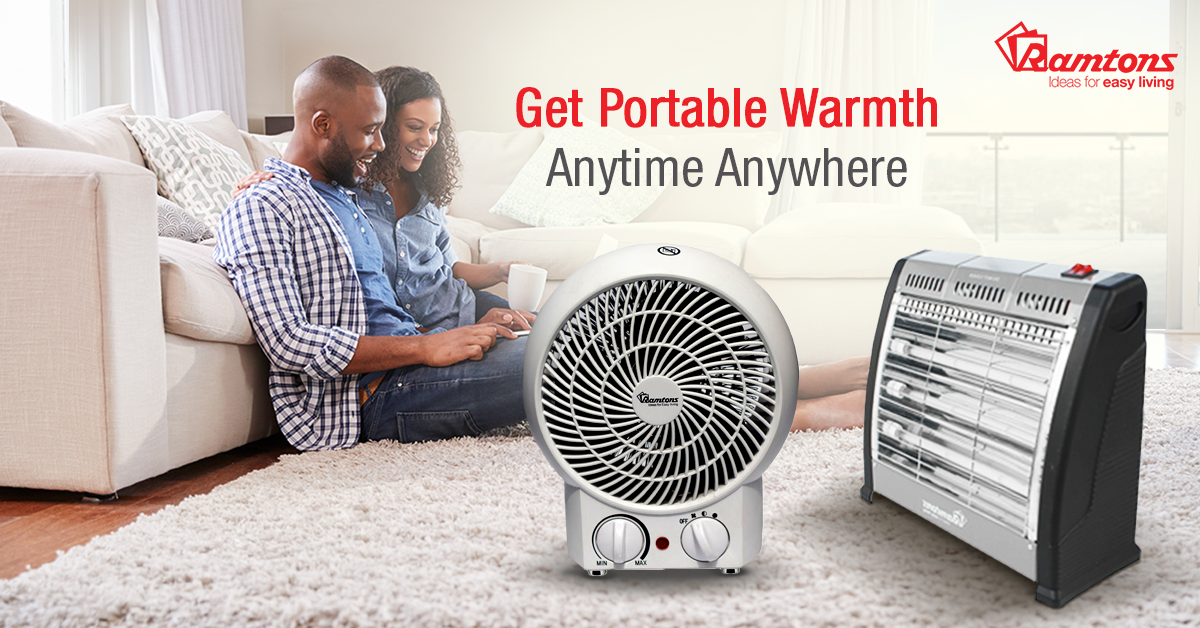 During cold seasons, our favorite go-to appliance is the heater. It's a sure way to warm up the house. Comforters, blankets, thermal apparel, and woolen clothing can provide warmth to a certain extent, but the most effective way of staying warm and keeping your homes warm during the winter is a heater.
With the cold season coming up, now is an excellent time to purchase a new heater or update the current heating system.
Just like any other appliance, there are guidelines to follow before committing to one.
What should you consider?
Let us first understand the basic features a room heater must possess.
Features A Room Heater Must Have:
1. Heat Setting Option
A heater should have a heat setting option that allows you to adjust based on the outdoor and indoor temperatures. This does not require switching on and off.
2. Noise Levels
Noisy heaters could be distracting or even annoying. The noise varies in different models. It depends on the technology behind the heater. Consider buying noise radiant heaters.
3. Portability
The Portable feature allows you to carry the heater from one room to the other and enjoy customized heating anytime, anywhere!
Heaters are usually compact one-piece devices that often fit on a tabletop. All you need is a standard electrical outlet with no other installation or setup required. The portability of a room heater makes it a versatile supplemental heat that can be easily stored and used. It also acts as a safety factor, can be kept away from children's reach.
4. Safety Control
Safety measures like a safety grill are necessary to ensure that the heating element is covered externally to keep it away from the reach of pets or children.
A safety device like a Double Protector can switch off and reset the temperature in the event of overheating or malfunction.
5. Energy Efficient
In addition, look for an adjustable thermostat, auto-off energy saving modes, etc. They reduce electricity consumption and lower the electricity bill. It is always beneficial for the consumer to opt for energy-efficient products.
Types of Heaters- Make Your Best Choice
There's a variety of heaters available in the market, fan, quartz, oil-filled, carbon-fiber, PTC, bar, e.t.c. The two widely used amongst these are the fan heater that works on the principle of convection and bar heaters that work on the principle of radiant heaters.
To choose the best for your home, consider the following pros and cons…
1. Fan Heater
Fan heaters that circulate hot air into a room are often compact, portable, and best suited to heating small spaces rather than a whole house, and are typically used for shorter periods. Fan heaters have the advantage of being both heating and cooling devices, making them extremely adaptable in all weather conditions.
Pros
Warms the room instantly
Programmable timer to set the time
Power setting control to set your desired temperature
A thermostat to regulate the temperature and the power supply
Safety grill to ensure safety at all times
Extremely compact & portable
A double protector to switch off the heater in case of overheating
Cons
Makes a little humming sound due to the fan.
Not suitable for large spaces
2. Bar Heater
Radiant bar heaters, like fan heaters, are electric heaters that radiate heat (through infrared rays) outward generated from some bars integrated into the heater. This type of heater delivers heat directly to people and objects within proximity, so it isn't the ideal choice for heating an entire space. Radiant bar heaters are small, portable, and operate silently, and are best suited for personal use.
Pros
Energy efficient
No or minimal operating noise
Grill for safety purposes
Instant heating
Fitted with a tip-over switch
Portable
Cons
Lacks a timer
Limited temperature control settings
Only provides target heating
Remember: Always choose a room heater with consideration for its location, hours of use, number of people in the room, and so on. Also, if used incorrectly, this helpful equipment can be harmful, so take the necessary measures and enjoy the warmth this winter.
What Makes Ramtons Room Heaters Your Best Choice?
Ramtons range of heaters consists of a special thermal element to help the movement of warm air while combining safety and quicker heating for maximum comfort. With multiple heat settings, adjustable thermostat, overheating protection, easy handle and tip over design, & extremely consumer-friendly uses make it a perfect choice for making your chilly days as warm as the sun.
Ramtons is Kenya's one of most well-known electronic suppliers. With the help of our products and services, we aim at providing ideas for easier living to our customers. We ensure to deliver the best quality products which serve your purpose to the best.
More information about our items for easy living can be found on our website.